A hill known by few
The Carpa hill is the most visible summit in cordon of the spaniards, this hill is a beautiful alternative ascent by the day, both in winter and in summer, this has the adventage of being a hill little crowded, ideal for those who they prefer to be and feel closer to nature.
On the route to the summit of Carpa Hill, we can find the monument to the wrecked glider and, also, with the summit of the Conchalí hill (2,552 masl). In addition, we can observe the beautiful sclerophyllous forest of the area, see majestic condors and see the incredible Andes Mountain Range.
It's a trekking that you will enjoy from beginning to end!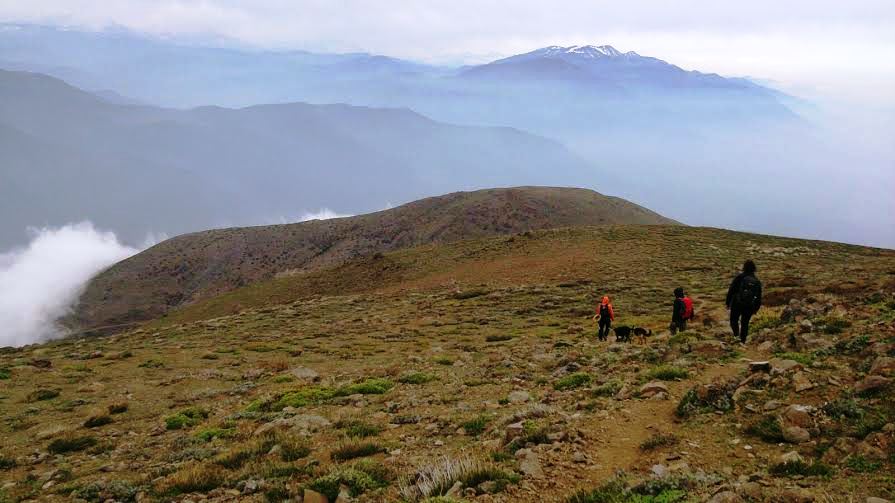 ---
¿WHERE IS MT. CARPA LOCATED? 
LOCATION: Mt. Carpa (2.776 masl),  Lo Barnechea, Santiago of Chile.
REGION: Metropolitan Region (RM).
---
ATTRACTIONS OF MT. CARPA
Views of the Andes Mountains.
Natural Viewpoint to the mountain range of the spanish.
Endemic Vegetation and animals to central Chile.
Challenging slope.
It is a little crowded trekking, which favors the development of the activity more calmly.
---
WHEN TO DO THIS TREKKING?
You can do this trekking at any time of the year.
---
REQUIREMENTS TO DO THIS TREKKING
No previous experience required.
Health according to the activity.
Having the appropriate personal clothing for the activity.
If you are a under-age people, you must have the written authorization of the parents.
---
ITINERARY
PICK UP:  Address, hotel, hostel, lodging or meeting point agreed with the client.
DROP OFF:  Address, hotel, hostel, lodging or meeting point agreed with the client.
HOURS OF ACTIVITY: Full Day.
---
Reservations
To validate your reservation you must deposit 50% of the total amount of the expedition. To do so, please write to our email info@allmountain.cl and we will tell you the form and details of payment.
**The payment of the reservation made from abroad is made through Paypal: When using this form of payment, the corresponding amount will be added according to the amount of the reservation, which is the Paypal charge when payments are made from abroad.
---
This is how we like to work and enjoy each activity
We work only with 4×4 cars equipped for the mountain (comfortable and with great capacity to travel mountain roads).
We work with groups that, in general, do not exceed six people per outing (which helps us to provide a more personalized service, in which a more familiar and concentrated atmosphere is generated).
Allmountain is certified by Sernatur (Certification of Tourist Guides; Certification in Adventure Tourism, sub-areas of: High Mountain, hiking, trekking, climbing) and is currently registered in the Registry of Tourism Service Providers of the same institution.
Our guides are people with experience in the field and have the required certifications to work in these activities (certifications that are also being updated), such as: Wilderness First Responder (WFR) Certification.
In each activity, we privilege the provision of a sustainable service: we use recyclable and organic products, we promote the principles of NDR (Leave No Trace), we promote local tourism, etc.
If you want to participate in a trekking or expedition and you do not have the technical equipment to do so, Allmountain includes them within each activity (if required). Example: tent, crampons, ice axe, helmet, etc.
---
We believe in a sustainable and sustainable tourism
In every trekking, Expedition, Mountain Tour or climbing outing, we bet on a:
Cultural Sustainability:
Souvenirs from local artisans: we visit cultural centers, museums, craft fairs in order to promote the consumption of products from local communities and that our customers interact with them to take a complete experience of the local community and their customs, food and others.
Ecological Sustainability:
We use soaps and natural cleaning products that do not contaminate the land, water of the places we visit.
We use glass containers and after each activity we separate and recycle the garbage produced during our outings.
We try to clean the places we visit or bring the garbage we find.
Energy Sustainability:
Solar battery chargers: we use solar battery chargers to charge our cell phones, cameras and other electronic items.
---
Photos